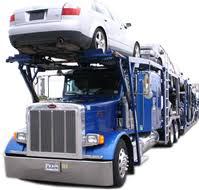 Direct Express Auto Transport has been in operation since 2003. Founded and still currently owned by Mike Rupers, the company has grown despite the recession, having recently moved to a larger office building in San Rafael, California.
With a customer service team of over a dozen people, customers using Direct Express Auto Transport have an easy time getting questions answered. This ensures that their auto transport service goes as smoothly as possible. The company also manages All-Pro Auto Transport and Auto Shipping Direct.
Direct Express Auto Transport Services
Direct Express Auto Transport is committed to delivering their services as quickly and efficiently as possible. The auto transport services they offer include:
Shipping anywhere in the US, including Hawaii and Alaska. All shippers carry mandatory shipping insurance for the duration of their transport, excluding overseas shipping.
Email notifications of when your transport service has been booked with a carrier. Customers know when they have a shipping schedule immediately.
A commitment to shipping all vehicles within a week of placing your request.
Door-to-door shipping only. The company claims that terminal-to-terminal shipping can be slow, inefficient, and a nightmare to pick your car or truck up from. Therefore, they do not offer terminal-to-terminal service.
Choosing Direct Express Auto Transport
Customers choose Direct Express Auto Transport because they want honest, dependable service. Direct Express Auto Transport refuses to offer lesser, unreliable services like terminal-to-terminal shipping. They know that the price they pay is fair and will get their vehicle shipped on time.
Direct Express Auto Transport simplifies shipping by carrying only two options: open trailer shipping and enclosed trailer shipping. All cars, regardless of shipping method, will be delivered door-to-door, or as close to home as possible if local laws restrict otherwise. Because Direct Express Auto Transport ships over 20,000 vehicles each year, customers can trust in their experience at coordinating their car shipping service.
Customer Reviews of Direct Express Auto Transport
August 13, 2011 – Meggie
"For God's sake do not require a phone number for quotes. I just wanted one quote from each company but for weeks after I requested a quote I got calls every single day from multiple companies. I hadn't even decided whether to ship my car yet and just wanted a ballpark figure for what I could expect to pay. Before you give a user's contact info to shipping companies you should provide a function that allows them to get a quote that's an automated average from all the companies you work with and THEN allow them to see a list of companies to contact for specific quotes."