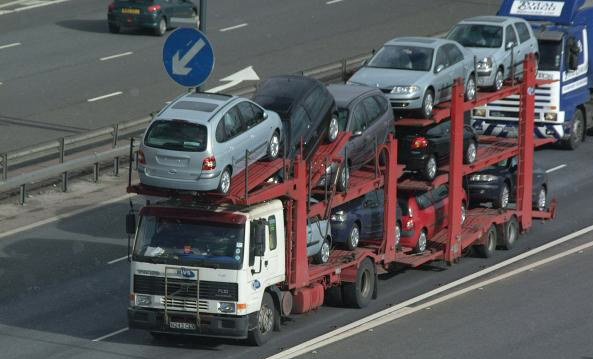 Open car transport services offer consumers a relatively inexpensive way to transport cars from one location to another. The term refers to a mode of shipping in which a car is loaded onto a specially constructed open car hauler and transported to its destination. Most automobile manufactures use this form of auto transport service to ship brand new vehicles from their manufacturing plant to dealers and distributors around the country. In fact, close to 95 percent of all cars that are professionally transported in the U.S. are shipped on open car carriers.
Choosing Between Open Carrier Shipping and Enclosed Carriers
Typically, car shipping companies offer open car transport services as one of two available options for hauling your vehicle. The other option they offer is to ship your car in an enclosed carrier. One of the biggest decisions consumers have to make when choosing a car transport company is to decide whether they want open car shipping or enclosed car shipping.
Why Open Carriers are Adequate in Most Cases
While both options have their advantages and disadvantages, open car transport is often the better choice for most people because of the following reasons:
Open car carriers are typically cheaper than enclosed carriers. That is because open car carriers are designed to carry up to 10 cars at the same time, while an enclosed car carrier, typically, can carry only between two and four vehicles. So, the cost of shipping each car is typically lower with open car transport carriers.
Concerns about cars getting damaged while being transported on open carriers are often overblown. It is true that with an open car carrier, your vehicle is exposed to inclement weather conditions and road debris during transit. In reality however, few cars really ever get damaged when being transported in open carriers. It's one of the reasons why all the major automobile manufacturers use open carriers to ship brand new vehicles.
Even if your car does get damaged, most major car shipping companies carry the insurance needed to cover repair costs, so you do not have to worry about any out-of-pocket expenses besides the shipping costs. Just make sure that any company you choose has the insurance protection needed to cover the costs of repairs in case of damage.
Open car shipping companies are also likely going to be more flexible and willing to negotiate with you on shipping dates and rates because they know you have a wider range of companies to choose from.
Door-to-Door Versus Terminal-to-Terminal Shipping
Most open car transport companies offer door-to-door shipping services. If you decide to opt for such a service, the shipping company will bring its truck right to your front door and load your vehicle from there. In some cases, local ordinances may prevent such pickups. In such situations, the shipping company will arrange to pick up your vehicle from a mutually convenient location such as the parking lot of a mall, for instance. If you are on a budget, and want to save a few dollars on shipping costs, you can opt for terminal-to-terminal shipping. With this option you will need to drop off and pick up your car from the transport company's shipping terminal.
How to Find an Open Car Hauler
Many auto transport companies offer free online price quotes and websites that allow you to make your reservations online. Consider using an online quote comparison site to receive quotes from multiple vendors. When choosing a vendor, do not be tempted by price alone. You car is an expensive asset, so you need to make sure that any open car transport company you choose is reliable and has the expertise and the equipment needed to transport your car safely to its destination.