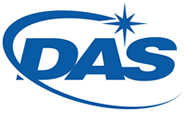 Dependable Auto Shippers (DAS) is the United States' largest privately owned provider of vehicle relocation services. Founded in 1954, Dependable Auto Shippers operates from its headquarters just southeast of Dallas, TX, with branch offices in Atlanta, GA, Chicago, IL, Linden, NJ, Los Angeles, CA, and San Francisco, CA. Using a network of 95+ terminals worldwide, DAS ships cars, trucks, vans, and motorcycles around the world.
Dependable Auto Shippers Services
As one of the oldest and largest auto shippers in the industry, Dependable Auto Shippers services are varied and can fit the needs of just about everyone.
Choosing Dependable Auto Shippers
Choosing Dependable Auto Shippers provides customers with an auto transport company that has shipped well over a million vehicles since it's inception. Unlike most of its competitors, DAS actually ships vehicles – not just brokering them. Customers here have the advantage of not having to go through a middle man to ship a car. Their network of terminals and trucks can easily get your vehicle anywhere in the US or world quickly!