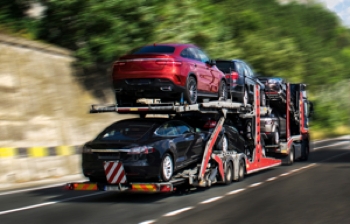 Chandler, Arizona September 19, 2012 – CarShipping.com, a no-cost service that distributes car shipping quotes from the top companies in the industry, has unveiled a heavily updated version of its website that is designed for simpler and faster web browsing. The site also continues to focus on producing localized auto shipping information for prospective movers.
A complete redesign of the content and navigation of CarShipping.com has been the focus of employees for several months. The updated design makes changes to everything from the style of the front page and prominence of the quote form, to the browsing tabs, and even including a vastly improved blog design. Visitors looking to learn about shipping a car to various states in the US, or a dozen different countries around the world, now have a simpler time finding just what they are looking for. Both the "International Car Shipping Services" page and the Auto Transport Services by State page have convenient drop-down boxes to help you find the location to which you need to ship. The CarShipping.com blog has now been organized into four basic topics: transport tips, shipping companies, shipping rates, and transport services. Blog posts are sorted by date, have a byline, and a brief description of the article can be read before visiting the full post.
Besides CarShipping.com's new completely custom layout, the site still manages to update its "State Guide" with information about more cities visitors can ship a vehicle to or from. The latest cities to be added are all found in the state of Oklahoma, including Tulsa, Norman, and Oklahoma City, among others. Like always, a brief but detailed description of the history and job market of of Oklahoma cities is proffered. Visitors will see two major companies to choose from for each city, but can click "Show More Companies" to view additional companies in the region. Useful links to popular attractions, hospitals, and the city government's website have been moved to a sidebar, which also includes the city seal and nearby cities.
"The new format has greatly impressed many viewers," stated representative Gary Morgan. "We have taken the proverbial broom and cleaned up the navigation of many of our most important pages, including international, local, and company pages. I hope our visitors find consuming this helpful information easier than ever!"
About CarShipping.com:
CarShipping.com has been offering free auto shipping quotes since 1997. The site's form is easy to fill out, and provides quotes nearly instantaneously. The CarShipping.com blog is continuously updated on events in the auto transport industry with help from a talent writing staff.