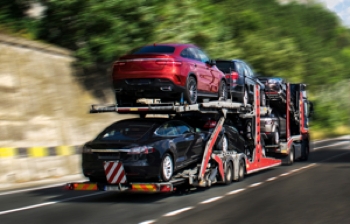 Chandler, Arizona May 11, 2012 – CarShipping.com, one of the premiere online services supplying free car transport quotes, has released a "steamy" new promotional video online. The video, which features an attractive actress in a leading role, combines sensuality and humor to encourage viewers to interact with the site's social media properties, such as Facebook and Twitter.
The video, which is 53 seconds long and entitled, "Don't Break Anything," was released by CarShipping.com onto video submission sites like YouTube and Vimeo on May 8. The ad displays a beautiful young woman reclining on a lawn chair while her boyfriend does all the heavy lifting involved in a move. A smooth, jazzy song accompanies the video, which the company states is intended to both amplify the humor and sex appeal in the plot.
The ad suggests that, "instead of doing everything yourself," the viewer go to CarShipping.com to get free auto transport quotes to help with a move. The video mentions that visitors may save up to 55% by comparing quotes from different auto transport companies. "Don't Break Anything" also utilizes the latest CarShipping.com logo. The logo was redesigned to be bigger, better and more appropriate for its social media properties.
Though the video was made on a low budget, the director, Andrew Keil, claims the advertisement for CarShipping.com really exceeded expectations. "So far, I have received a lot of praise for the ad. Auto transport is a difficult industry to sell to people in the form of traditional marketing. I really looked towards similar, though far costlier, marketing campaigns produced by companies like GoDaddy.com for inspiration. The combination of humor and sex appeal really worked for me; I hope I can make a similar production in the future!"
According to CarShipping.com, the site intends to continue building its brand in the future with online promotions. In the meantime, the quote provider has updated content on its site about shipping cars to cities like Boston and Baltimore. Representatives also allude to working on a CarShipping.com instant rate calculator.
About CarShipping.com:
CarShipping.com has been providing car transport quotes since 1997. The site currently advertises that visitors can save on car shipping services when they compare quotes from up to seven auto shippers. Their site's content is updated weekly to provide visitors with the most relevant information on the car shipping industry, as well as their options for shipping a car locally, across the country, and internationally.