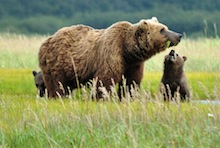 Chicago, IL June 20, 2011 – CarShipping.com recently partnered with Bears Auto Transport, to diversify their online auto transport network of companies in the United States. This partnership will allow customers to obtain much more competitive car shipping quotes, which means great savings over the competition. When auto shipping companies compete consumers can save up to 30 percent on their shipping needs.
Bears Auto Transport is a fully licensed and insured car shipping broker, working with experienced and professional auto transports to ship cars, trucks, motorcycles, RVs, and any other type of vehicle within the United States. All the carriers they work with are rated on performance, quality of insurance coverage and the licenses they carry to operate with the U.S.
Bears Transport provides fast, efficient auto shipping services throughout the country, including Hawaii and Alaska. They are best known for their amazing customer service and support. It is their goal to ensure every vehicle arrives at its destination on-time and in perfect condition. To that end, they are able to ship your vehicle in enclosed auto transporters to guarantee no harm comes to your property while being shipped.
The car shipping services they can provide include, but are not limited to: enclosed auto transport; motorcycle, RV and boat shipping; highly competitive pricing; pre-transport preparations; licensed, bonded and insured carriers; door-to-door pickup and delivery; 24/7 vehicle tracking services and round-the-clock customer service and support.
"Here at CarShipping.com, we pride ourselves on only working with the best auto transport companies in the country. For that reason, we are the #1 destination for people shopping for high quality, affordable car shipping services. Having Bears Auto Transport join our network is a win-win for both companies, but customers are the ones who will benefit the most. The more relationships we make with great car shippers, the more competitive pricing we can offer to our visitors," said a CarShipping.com spokesperson.
CarShipping.com is the best online resource for customers looking for the best auto transport companies for their move.