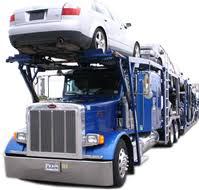 It's important to examine selecting a car shipping company from several angles to determine the service that best fits your needs. Companies in the auto transport industry differ based on experience, services offered, pricing, and the expediency of pick-up and delivery.
Find an auto shipping company that can adequately ship your vehicle.The first thing to consider when looking for an auto transporter is the type of vehicle you plan on shipping, its origination, and its destination. For instance, companies may not be able to adequately ship certain types of vehicles, such as trucks or RVs. Luxury and exotic car owners need to look for shippers that specialize in enclosed auto transport services to keep their vehicle pristine and undamaged. Likewise, while most transporters can easily ship to any major city, residents in less populated states and areas often need to find a local service to ship their vehicle.
Make sure the company you choose works within your provided timeframe.Not all auto transporters offer expedited shipping requests, though those that do usually charge extra. Be aware that most shippers require at least a week to find a driver able to pick-up your vehicle. If the auto transporter cannot accommodate you, you will need to look elsewhere.
Choose companies with pricing options that make sense.Car shipping companies generally charge based on the distance your vehicle will be shipped and its size and weight. While shipping across the country will usually be fairly expensive, look for companies that offer shipping discounts on frequently traveled routes. However, never hire a broker that undercuts average rates too highly, as they will, most likely, be unable to find a driver willing to accept their rate. A quote that is at or just below the average rate for shipping a car to your destination will help ensure your car ships quickly via a reputable driver. You can expect to pay a deposit to ship your car, but never agree to pay this deposit before a driver has been assigned to you.
Additionally, never pay extra for door-to-door delivery. For the most part, this service is an industry standard, as terminal use is very rare in modern car shipping. On the other hand, always expect to pay extra for enclosed shipping.
Always inspect a contract carefully and verify that insurance coverage is ample.Make sure to receive all terms discussed with an auto transport broker or driver in writing. The contract should detail the condition of your vehicle, its origination and destination, the type of services you have requested, and the final price of shipping and delivery. Verbal promises not found in writing may be changed without warning or repercussion. This is exceptionally important when it comes to estimated pick-up and delivery dates. Always demand a clause that provides the opportunity to receive a refund of or discount on your deposit if your vehicle is not picked-up within a week of these dates.
Insurance coverage on all auto transport vehicles is required by federal law. Ask for a copy of your transporter's insurance policy to verify that they are operating within the law. Note in the coverage whether there is a damage deductible, and calculate whether the overall coverage is sufficient for the value of your vehicle.
Verify the reputation and licensing of all auto transport companies.Perhaps the most important step when selecting a car shipping company is to make sure they are properly licensed. Visit the Federal Motor Carrier Safety Administration online to view the company's current licensing status. You also need to examine the company's reputation online by reading car shipping reviews, and also reading the grade assigned to them by the Better Business Bureau.