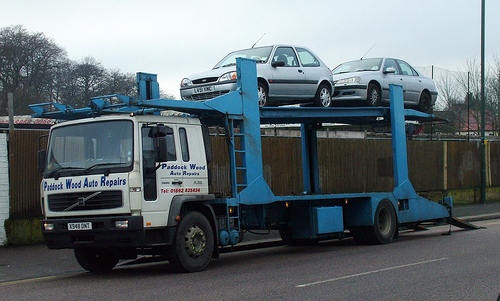 Car haulers are ideal if you are looking to transport your car to a new location, but do not want to hire a professional auto transport company to do it for you. A car hauler typically is a non-motorized trailer that can be used to tow or to haul cars safely over long distances. You can attach a car trailer to an SUV or a pickup truck and personally haul your vehicle to your destination.
Haulers Come in Different Sizes and Configurations
Car haulers come in a wide variety of lengths, widths and configurations. Some car haulers are enclosed trailers, while others are open. Other available options include wood floor trailers, open center trailers that are capable of hauling two cars, double deck trailers, flatbeds and gooseneck trailers. Many rental car companies also rent out car-tow dollies that allow cars to be towed with their front wheels off the ground.
Car haulers are readily available for rent from most car rental companies as well as from car transportation services and trailer rental firms. Rental costs typically start at around $200 per week for an open hauler. If you want, you can also purchase a used or new car hauler at starting prices of less than $3,000.
Multiple Options to Choose From
Choosing a trailer can be difficult when you have so many options. That is one reason why it is a good idea to keep your requirements in mind when selecting a car hauler. For instance, if you have an expensive car and want to make sure it is well protected during transit, your best bet would be to use an enclosed hauler. However, if you are on a budget, flatbeds and open-center trailers offer a more economical option, though they are trickier to tow than other kinds of trailers.
If you car is a front-wheel drive vehicle, you might be able to tow it behind your vehicle with its front wheel on a car-tow dolly. However, if you have an all-wheel or rear wheel drive vehicle, your best option would be to ship it in a car hauler with all wheels off the ground. If stability and ease of handling are your primary concerns, your best option would be to go with a gooseneck trailer.
Considerations to Keep in Mind When Using a Car Hauler
Car haulers are convenient because they allow you to transport your car at your leisure and schedule. However, there are some caveats that you need to be aware of when transporting a car using a car hauler.
Car haulers require powerful tow vehicles. Ideally, you will need a pickup truck or other four-wheel drive vehicle with a big engine, and enough horsepower and transmission capability to haul your vehicle. Two wheel drive vehicles are not ideally suited for towing a car hauler.
Your tow vehicle needs to be equipped with a hitch that is suitable and strong enough to attach the trailer you will be using to haul your vehicle. Most passenger vehicles come standard with a Class III hitch, but some trailers may require you to have a stronger, Class IV hitch.
Driving with an attached car hauler can be tricky because your tow vehicle becomes inherently unstable. This is especially true during maneuvers such as turning, merging lanes, reversing and braking. As a result, you need to pay special attention to issues such as the weight of the vehicle being hauled, the kind of hauler that is being used and the manner in which the load is distributed.
Car haulers are truly a viable option for transporting your car so long as you are prepared to drive a vehicle with a trailer attached to it.