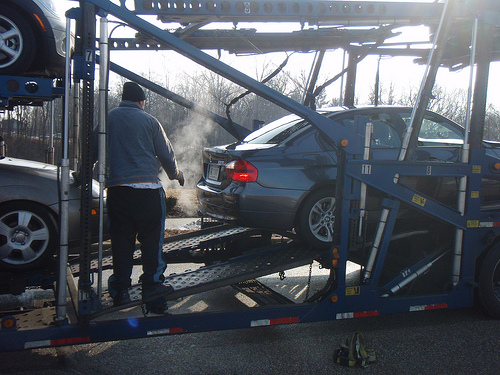 Shipping cars was not nearly as popular years ago as it is now; therefore, there weren't that many auto shipping companies to choose from and the prices were nowhere near as low as they are now.
There is really no trick to finding a good auto transport company, but you do need to be selective. There are plenty of dependable car shipping companies in operation today. The following tips will make it easier for you to find one.
Get Free Shipping Quotes
You do not need to spend hours calling around each individual car transport company to get quotes. The internet has made it easier for consumers to locate dependable auto shipping companies with just a few clicks of a mouse.
If a car transport company does not have a website where you can request a free quote for your auto move, it's best to move on to one that does, because there are many. In fact, you can get you multiple quotes from car shipping companies by filling out the form on our site with basic information related to your move.
Ask Questions From Shipping Companies
After you get quotes from at least 3 different car shipping companies, ask them questions about their business and the shipping services they are offering you. Get a better feel for the company when talking to them.
If you do not like the answers you are given by any auto mover, there is that chance that they are not a good fit for you. Don't fret. Get a few more quotes from potential car shipping companies and continue with the process until you find a reliable auto transport company that gives you the answers you feel comfortable with.
Get Some Feedback to Compare Shipping Companies
If you do not know anyone that has used the services of any car shipping companies, turn to the Internet for answers. A good place to start would be the Better Business Bureau website to check and see if any car shipper you are interested in using has any prior customer complaints. If they do, see how they were handled by the company.
Keep in mind that not every company is going to have a blemish-free record with the BBB, especially larger car shipping companies that handle thousands of vehicle moves a year. The important thing is to see how the company handled the complaints, or if they even addressed them at all. If you are satisfied with what you see, keep that car mover in mind, but do a little more research on them before you proceed.
Not only has the internet made it easy to get quotes from car shipping companies, but it has also made it easy to find car shipping and moving resources.
The FMCSA website is a great resource to look up insurance and licensing information on transport companies. And if you need more information on a certain vehicle shipper, you can read auto transport reviews right here at CarShipping.com. These resources make finding a dependable car shipping company a breeze!