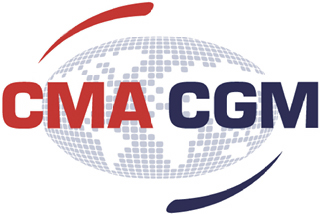 The CMA CGM Group is the largest container shipping company in France, and the third largest in the world in terms of revenues and operations. The company is headquartered in Marseille, France, employs over 17,000 people, and maintains 650 offices in over 150 countries around the world. It was established in 1978, and, today, offers shipping and related services in 170 shipping routes spanning the globe.
End-to-End Logistics Management
CMA CGM is one of the few global shipping companies to offer a complete portfolio of logistics services, including river shuttle container service, inland waterway transportation, rail and road transportation services and port handling facilities. The company's comprehensive range of logistics and multimodal transportation capabilities allows it to deliver door-to-door service in all of the regions that it operates.
E-Business Portal
The company offers a relatively unique service that allows customers to conduct a variety of transactions via a secure web portal. CMA's eServices suite lets customer schedule shipments, get price quotes, obtain tariff and customs information, view and print their bill of lading and track shipments, all online. The service allows customers to initiate, pay for and complete a transaction entirely online.
Strategic Partnerships
The group compromises of 16 subsidiaries, each of which offers specialized services in areas such as international container shipping, multimodal transportation, logistics services and tourism. Much of the company's growth in recent years has been propelled through strategic partnerships. Earlier this year, for instance, CMA announced a partnership with Maersk Line, under which the two companies will offer a new Asia-West Mediterranean service that replaces the one that CMA currently operates in the region.
In February, the group announced a five-year partnership with IBM to strengthen its information technology infrastructure. Under the partnership, IT teams from IBM and CMA will be merged into a new subsidiary called CMA Systems that will develop new business analytics and cloud computing technologies.
Luxury Tourism
The company has recently diversified into the tourism business, and currently offers a selection of premium sea-cruises and luxury tours to destinations around the world. The upscale, custom-designed cruises and tours serve destinations in South America, Europe, Antarctica, North America and the Mediterranean coast line. The company's tourist services are targeted at business travelers and leisure travelers.
US Operations
The US agent of the France-based shipping company is headquartered in Norfolk, Virginia. The company currently offers over 20 shipping services in North America, and has been ranked among the top five shippers by volume in the United States for several years. CMA's services in the United States include container shipping, fleet management, logistics support, supply-chain management and specialized transportation services by land, air and sea. All the services offers by CMA CGM in North America are fully compliant with Department of Homeland Security requirements and are certified to Customs-Trade Partnership Against Terrorism (C-TPAT) standards.