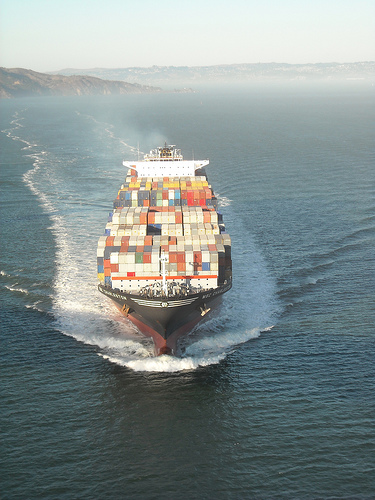 Container shipping has become a favored option for transporting household goods, personal items and shipping automobiles overseas. It is a form of shipping in which goods are loaded into large steel containers and transported to seaports, from which they are shipped to overseas destinations in special purpose container ships. Most major ports in the US currently offer container services to destinations around the world.
Standard Container Dimensions
A shipping container is typically either a 20-foot or 40-foot long steel container. Most containers that are used to ship household goods and automobiles are 8 feet wide, 8 feet tall, and fully enclosed. Most have sliding doors and ramps on either the side or the front of the container that can be used for loading and unloading goods. Some containers are rectangular in shape, while others are square. Large container ships can carry between 5,000 to 12,000 containers in one trip.
Container Capacities
A 20-foot container is ideal for transporting the contents of a one or two-bedroom home or a single automobile and a few medium-sized boxes. A 40-foot container is suitable for transporting the contents of a three to five bedroom home, or one automobile and the contents of about two bedrooms. Most overseas container shipping companies give customers the option of transporting a full container load (FCL) or less than container load (LCL) shipments. If you give them an accurate description of the goods you want transported, they can tell you whether you need a 20-foot or a 40-foot container, and whether it will be an FCL shipment or an LCL shipment.
FCL and LCL Shipments
If you have an FCL shipment, the international container shipping company will deliver a 20-foot or 40-foot container to your residence for you to load. You can either hire a professional shipping company to load the container or you can load it yourself. Once the container is ready for transportation, your overseas container shipping company will have it picked up and delivered to the nearest seaport via road or by rail. With an LCL shipment, most shipping companies will expect you to transport your belongings to the seaport from which it is to be shipped.
Shipping Costs
International container shipping firms calculate transportation charges based on the volume weight of your shipment. A standard 20-foot container typically offers about 1,185 cubic feet of space and a maximum volume weight of roughly 48,000 pounds. A 40-foot container offers about 2,700 cubic feet of space and a maximum payload weight of about 62,000 pounds. A cubic feet is measured as the space occupied by an item that is one-foot tall, one-foot wide and one-foot in length. When you have an LCL shipment, the container shipping company will calculate your costs based on the total cubic feet occupied by your belongings in a container.
The actual shipping costs vary by company and by sea route. Generally, you will find it cheaper to transport goods over a busy sea route as opposed to a less popular sea route. Most shipping companies do not include maritime insurance costs in the price quotes. If you want insurance coverage, be prepared to pay an extra fee for that protection. Be prepared, also, to pay demurrage and port storage charges if you or an agent cannot be present to pick up your shipping container upon its arrival at the destination port.