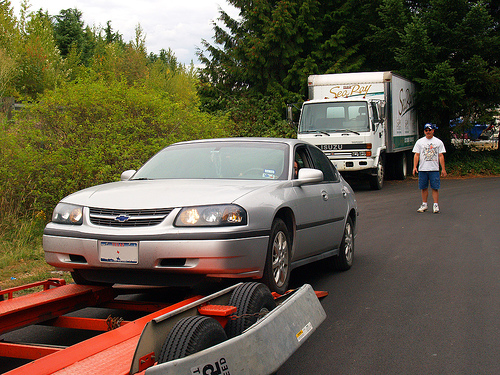 If you have ever found yourself wondering 'how much does it cost to ship a car,' you are not alone. The process of transporting a car to a new location can appear complex and costly if you have never done it before. Many people assume that car shipping rates for professional car transportation services are very costly and therefore end up simply driving their car to its destination. In reality, auto shipping services can be quite cost-effective if you know what options to choose and how to negotiate the best deals. If you do your research, you'll quickly discover that the answer to the question really depends on several factors.
Factors That Affect Car Shipping Costs
One of the biggest factors impacting car transportation costs is the distance you want your car shipped. For instance, the average cost to ship a car from coast-to-coast is usually around $900. However, the cost to ship the same car would be approximately $600 if you wanted to ship cross country from New York to Florida. So if you are wondering 'how much does it cost to ship a car', remember that the longer the distance you want your car transported, the more the money you can expect to pay for the service.
The Options You Choose Make a Difference
The size of the car also plays a big role in determining the price of a car shipment. Bigger cars are more expensive to ship than small ones because they take up more space on the car carrier. Similarly, the options you choose also are a big factor. Car shipping companies for instance, typically haul cars in open carriers or in enclosed carriers. Open carrier shipping prices are less than enclosed carrier shipping. So, if you choose the former option, you would pay less for it, than if you choose the enclosed carrier option. It's also important to consider the size of your car and determine what options you are likely to use when shipping it.
Tips for Getting the Best Car Shipment Deals
Generally, if you have never used car haulers to transport your car before, it is a good idea to ask the transport company the following questions so that you do not end up being surprised by the price tag.
How much does it cost to ship a car using an enclosed carrier?
Car transportation companies usually ship cars on open carriers, unless you specifically ask for an enclosed carrier. Fully covered carriers offer better protection for your car during transit but they can cost up to 60 percent more than open carriers. So, if a company normally charges around $600 to move a car from New York to Florida, expect to pay more than $900 for an enclosed carrier.
How much does it cost to ship a car using door-to-door delivery?
Many car hauling companies offer to pick up and drop off your vehicle right from your door-step. Before you sign up for the option, find out how much the company charges for terminal-to-terminal shipping. Often, the rates for terminal-to-terminal shipping can be substantially lower than door-to-door service.
Will it be cheaper to ship my car from another city?
Generally, you can get better rates if you ship your car from a major city. So, if you live in a small town but are reasonably close to a major metropolitan area, ask your auto shipper for a quote from that city as well. Chances are that you will get a substantially better rate if you ship your car from the city.
Next time you find yourself asking how much it costs to ship a car consider all the factors that go into the shipment costs, and choose the ones that will let you get the most value for your money.