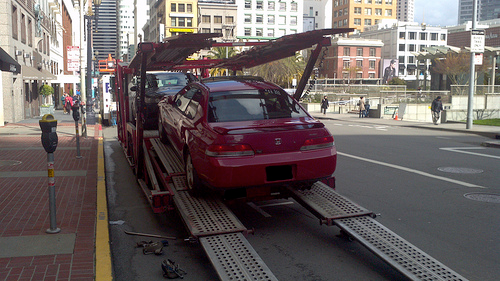 If you are on a tight budget and need to have your car relocated to a new place, consider shopping around for discount auto transport options. You will be surprised at the number of companies out there that are willing to transport your car for considerably less than what it would have cost you to have it hauled by a premium auto shipping service. Many such discount vehicle shipping services offer the same quality and reliability that their more expensive counterparts offer, but at substantially cheaper rates.
Know Where to Look
The key to finding discount auto transport services lies in knowing where to look. Online quote comparison sites are a good place to begin. Such sites allow you to submit your car transportation requirements and to almost instantly receive price quotes from multiple auto transportation companies. Review those quotes carefully. Often, consumers tend to ignore the lowest priced quote because they automatically assume that the cheapest service is somehow unreliable. This is not always the case.
Cheap Does Not Always Mean Unreliable
A car transportation company might offer discount auto transport services in order to win new business. The car transportation business is a crowded one, and companies often offer discounted rates and cheap prices as a way to attract customers. So, instead of automatically dismissing a cheap price quote, try to find out what kind of shipping options are being offered for that price, and whether there are any hidden costs involved. Check if the company is properly licensed and has the necessary insurance to transport cars. Ask for customer testimonials and speak with other customers about their experience.
No-Frills Shipping
Sometimes, a car shipping company might offer you discount auto transport rates because they don't offer as many frills and shipping options as their more expensive rivals do. For example, the only option that might be available to you might be open carrier shipping. Or, the company may not offer door-to-door shipping, and, instead, might require you to drop off and pick up your car at their shipping terminal. Similarly, they might not offer you the satellite-based real-time shipment tracking ability that some companies offer. In exchange for such no-frills service, the car transportation company might be willing to offer you substantially lower prices than the competition.
Cut Costs by Being Flexible
Another way to score discount auto transport services is to be flexible with your shipping dates. Just like any other industry, car shipping companies too have their peak seasons. Generally, most people tend to relocate during spring and summer and less so during fall and winter. Your chances of finding cheap auto transport is likely to be much higher during the off season, when companies are likely to be more willing to negotiate on prices. It's also always a good idea to check around for last minute shipping deals. Sometimes, a car transportation company might get a last minute cancellation and be willing to haul your car for less.
You can also try and negotiate your way to a better price. Ask your insurance company whether their policy covers your vehicle while it is being shipped by a third-party. In case it does not, see if you can purchase additional coverage from them. Often, your insurance company will be able to offer you better protection at lower cost than the auto transporting firm. Car shipping companies that own their own fleet of auto transport trailers also often are cheaper than companies with leased vehicles.
Discount auto transport services are not all that hard to find, nor do they have to be risky so long as you do your research well.