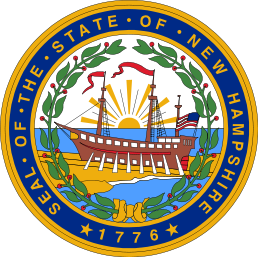 New Hampshire car shipping companies transport cars to different locations within the state and around the country. If you need a car transported to or from New Hampshire, your best bet is to go with a car shipping company from the state. Regional New Hampshire car shipping companies are likely to offer you better rates for shipping in the region compared to national carriers. They are also likely to be more experienced in dealing with the highly adverse road and weather conditions that can prevail in New Hampshire during certain times of the year.
The Granite State
New Hampshire is situated in the northeastern part of the United States. It is one of the six states that collectively form the region known as New England. New Hampshire is one of the smallest states in the country, both in terms of size and in terms of population. The state, which is bordered by Massachusetts to the south, Canada to the north, Maine to the east and Vermont to the west, was one of the original 13 colonies established in the US. The state is often referred to as the Granite State in recognition of its rugged terrain, as well as the stoic nature of its citizens. New Hampshire's Mt. Washington has some of the windiest terrain on Earth.
Car Transportation in New Hampshire
New Hampshire car shipping firms service all the major cities in the state, including Concord, Nashua, Portsmouth and Keene. They also service all other parts of the state and the country. To find a company for your needs, simply go to an online quote comparison site and submit your requirements. Make sure to mention when and where you want your car picked up from, and to where you want it shipped. Specify if you want your car shipped in an open carrier or a closed carrier and indicate if you want door-to-door service or terminal-to-terminal shipping for an accurate car shipping estimate.
What to Look for When Choosing a Car Transporter
Once you submit your requirements, you should receive quotes from multiple New Hampshire car shipping companies that are interested in transporting your car for you. Carefully compare the quotes keeping the following tips in mind.
The rates for transporting your car will depend on the distance you want the car shipped, and how soon you want it picked up and dropped off. Ask your New Hampshire car shipping company if you can get better rates if you are flexible with your shipping dates. Sometimes, companies charge less if you have some leeway with your shipping dates.
Choosing a terminal-to-terminal shipping option can help you knock a few dollars off your shipping costs. However, make sure to ask your New Hampshire car shipping company about the distance to their closest shipping terminal. If you have to drive a long distance to have your car dropped off and picked up, you may be better off simply opting for door-to-door shipping.
Ask your car transporting firm for proof of car shipping insurance. If you are hesitant about asking for it directly, you can always check for it yourself by going to the Federal Motor Carrier Safety Administration's (FMCSA) website. All licensed operators are required to enter details of their company with the FMCSA.
Regardless of whether you are relocating to the Granite State or moving away from it, one way to minimize the accompanying stress is to hire a New Hampshire car shipping company to transport your car for you.