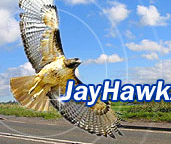 Jayhawk Auto Transport is a relatively new vehicle transport company. Dating back to 2005, owners Ron and Travis have worked to present car shipping services that are competitive with the rest of the industry. Their prices differ, of course, depending on the season, size of the vehicle, and distance it is being shipped.
Like many car transport companies these days, Jayhawk Auto Transport is a broker, meaning they hire private individuals or shipping companies to haul your vehicle. The benefit of hiring car shipping brokers is that these companies can compare prices and do the work of contacting, hiring and setting up shipping dates with auto haulers for you.
Jayhawk Auto Transport Services
Jayhawk Auto Transport provides a slew of services, including:
"Guaranteed Delivery" service for clients that need their vehicles on a specific date.
Door-to-door delivery for the majority of clients to avoid the excess fees possible via terminal-to-terminal shipment.
All major credit cards accepted for payment up-front.
Choosing Jayhawk Auto Transport
Choosing Jayhawk Auto Transport places you in the hands of a young company that is heading places. Allow them to find the best auto transport carrier for you. If you need to have your vehicle picked up on a specific date, then Jayhawk Auto Transport is the company for you due to their "Must Pick Up" service. Premium services like these make this company one to watch as they continue to grow in the future.