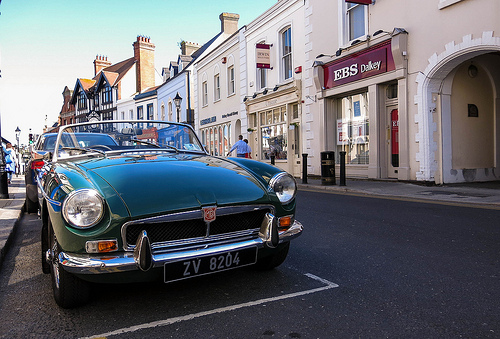 Fixer upper cars have long been a staple of teenage boys' fantasies everywhere. With dreams of owning an amazing ride at a fraction of the cost, cheap fixer upper cars have been sought after with a veracity those same boys usually reserved for chasing girls. Today, thanks to the internet, this genre of vehicles are now available to people of all ranges and age abilities, whether they are looking for a rare barn-find like a 63 Corvette, or the classic muscle cars of 1970, or even sentimental choices from their youth, like a late 80s Mustang 5.0. But with so many choices out there today, it's hard to say what really are the best project cars to be looking for. That being said, let's take a look at a few considerations to think about, and then some of the best projects out there for people today.
Finding a Car to Fix
Unless you are well-trained in the art of being a mechanic, and, in more modern vehicles, also a computer technician, simplicity will be one of the biggest factors when considering what project car to buy. Though the vehicles today are much better built than their 60s, 70s, and 80s counterparts, they are undeniably more complicated. You can't stand in the engine bay of a modern sports car and work on it like you could an old V8 behemoth. Looking for cars that won't make you so frustrated at your lack of progress that you call up the salvage yard to take them away is an important consideration. Don't forget about cost of parts either: though that Citroen may be a thing of beauty, low demand and supply means parts will cost a fortune to replace. That said, there are still a number of great classic project cars that won't break the bank.
Choosing an American Favorite, the Mustang
If the so-called golden age of power is your thing, it's hard to find better fixer upper muscle cars than the Ford Mustang. This iconic model started production in 1964, and you should be looking for one built between then and 1972 for that classic style. Though mint editions will run you six figures, or more, plenty of seen-better-days Mustangs from this era can be picked up for a few thousand dollars. This low cost, combined with the Mustang's eternal charm, makes this a great entry into the fixer upper market. Also, the longstanding popularity of this Mustang means that aftermarket replacement parts for the vehicle are plentiful, and cheap, so you'll have no problem finding a replacement when something inevitably breaks.
Fixer Uppers with More Character
Another one of the best fixer upper cars around is the MGB. While you may know it as the 'Midget,' the MG MGB, as it's formally known, has all the hallmarks of a good fixer upper: it's fun to drive, it's durable, and it's cheap. The droptop version of the car was almost as popular as the coupe, so finding a convertible is easier than just about any other car out there. 'The' British Sports car can be picked up all over the country for just a few thousand dollars, or less, as long as you are willing to do some work. A large community of owners offer great resources for problems, and modern replacement parts are not only plentiful, but they are better built than the originals that plagued the MGB, meaning this vehicle is ready to cruise all summer long.
For the eccentric in us all, you probably can't beat an old Volkswagen Beetle. Of all the good fixer upper cars on this list, it's hard to top the sheer fun of driving the Beetle. As nearly everyone of a certain age has driven one of these classic workhorses at one time, the nostalgia effect is in full force with these indestructible German cars. The original American production ran from 1953-1980, and the design of the vehicle changed remarkably little in that time frame. With such a large supply, even a Beetle in good condition will only set you back a few thousand dollars, leaving you plenty of extra cash to upgrade or repair your car to your heart's content. An unusually devoted, and large, fan base for the Beetle will tell you how great and easy this car is to fix. And, with millions of them having been produced, don't worry about parts being scarce in your lifetime.
Remembering Your Budget
The cars mentioned here serve as a model for the best fixer upper cars on the market today. No matter what your favorite type of a vehicle you choose, whether its a '55 Bel Air, or an early 80s Trans-Am, focusing on cars that had a large production number and a large demand for replacement parts today will help you get a great classic car on a budget. Do some research before you set off on your quest, and you'll be fine. If you see many pages of people clamoring for an A/C condenser from an obscure vehicle line that no one produces anymore, know that it may not be the best purchase for the classic car aficionado on a budget.