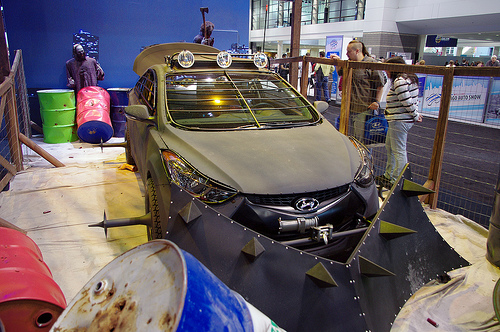 In keeping with the spirit of Halloween and the recent launch of The Walking Dead season four, carmaker Hyundai has rolled out what it calls the ultimate Zombie Survival Machine. The one-off Hyundai zombie proof car is a modified version of the company's Santa Fe crossover SUV and was designed by a fan at the recently concluded Comic-Con trade show in New York. The design for the car was chosen from over 82,000 designs submitted by fans at the event. Galpin Auto Sports, a professional auto design shop turned the fan-built concept vehicle into an actual real-life car that was displayed at the Comic-Con trade show in early October.
Slaying the Undead
The Hyundai zombie survival car boasts of a slew of nasty weaponry designed to slay the undead. According to the creator of the urban camouflage design, the new concept car is designed to be extremely stealthy and deadly, while also offering occupants abundant space for cargo and supplies for staving off a zombie attack. Weapons built into the car include knives, a samurai sword, machine guns, aluminum armor, an automatic crossbow, a muffler silencer and razor wire around the windows and gun turret.
The latest Hyundai zombie car is just one of several thousands designed by fans over the past few months using a free online application developed by Hyundai called The Walking Dead Chop Shop Configurator. The designs have typically been based on popular Hyundai vehicles, such as the Veloster Turbo, the Elantra sedan and the Santa Fe. So far, only two other fan designs have actually been made into real life cars however.
Original Zombie Proof Car
The original Hyundai zombie car was released in 2012 and was based on Hyundai's Elantra sedan. The vehicle featured a massive cowcatcher, sharp spears on the wheel hubs, and razor wire protecting all doors and windows. Hyundai released its second zombie proof car at a Comic-Con show in San Diego earlier this year. The second car was based off the Veloster Turbo and came with the usual assortment of zombie fighting tools, including a spiked cow catcher bumper, razor wire protected windows and two chainsaws attached to the hood of the car.
Promotional Campaign
The vehicles and the idea of having fans design concept cars are part of an effort by Hyundai to boost the popularity of its vehicles. Hyundai is a major sponsor of the Walking Dead TV show, and the company is hoping to use that tie-in to promote its vehicles. The company has already featured the zombie car in commercials that aired at the trade show and on TV. The effort also highlights the close relationship that Hyundai has developed over the years with Image Comics and Robert Kirkman, an American author of numerous comic books and the creator of The Walking Dead series.