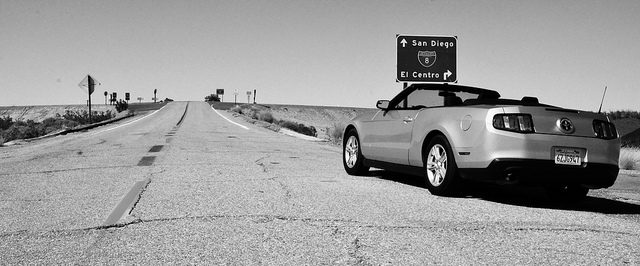 The summer road trip is an American staple. Nowhere else on Earth is a road trip so ingrained in the culture of a place than the United States. And, it's not hard to see why: with amazing sights, cities, and places separated by thousands of miles, it's hard to see it all without the aid of a car. Any good road trip starts with a good car, and your vehicle of choice can have a profound effect on your road trip experience. That said, what is the best car for a road trip? The answer to that question may depend on what exactly you plan to accomplish on your road trip. So, let's take a look at some of the best road trip cars the automaking world has to offer, regardless of your preferred type of trip.
For A Spacier Vehicle, Choose Vans
As the station wagons prefered by American family's in the 70s and 80s have largely vanished from neighborhood garages, the best vacation cars for the whole family are vans. And the best of those may be the Honda Odyssey. The Odyssey is well-equipped for the long haul, cross-country road trip so many dream of. With best in class fuel economy, it will be light on your wallet, and the 15 cup holders mean everyone can have a drink for every hand. A 16 inch split-screen can keep the kids entertained out back, and the Touring Package gives the Odyssey the tools to haul the boat to the lake, or ocean, for everyone to enjoy. Combine that with the superior people-moving and cargo-carrying capacity of any van, and you've got a real winner.
Road Trip Cars for More Specific Conditions
For a road trip without the kids, the Ford Mustang Convertible has to be one of the best summer cars out there. With the sun shining down from the bright blue sky and the wind racing through your hair as you race up the coast, you may never want to go back home. The V6 version will still pump out 300 horsepower for general horseplay, but will still get 30 MPG on the highway. You may even be able to recreate some memories from your youth, seeing as the Mustang is about to reach its 50th anniversary, there's a good chance some summers of your youth were spent in a Mustang.
While the Mustang convertible is great for the idyllic conditions of the Pacific Coast, what if you want to take a road trip to some places a little more daunting? Well, one of the best all weather cars you can ask for is the Subaru Outback. The not-really-a-station-wagon Outback has long been praised for its craftsmanship and high resale value. But, it's also a great road trip car, with all-wheel drive, tons of cargo space, and a roomy interior which is just as comfortable hauling canoes up to an alpine pond as it is cruising through the plains.
Nostalgia Inducing Vacation Cars
As a generation which grew up with the love of the road trip, the best road trip cars for many adults today may be the cars in which their parents first packed them into as youths. The vehicle of choice for those long trips was either the Volkswagen Bus, or any of the massive wood-paneled, rear-facing third row seated, V8 American station wagons that were ubiquitous a few decades ago. For nostalgia, fun, and a little danger all rolled into one vehicle, jumping in one of these vehicles today for a National Lampoon's Vacation style-adventure may be just what the doctor ordered. Don't expect the latest and greatest in reliability, gas mileage, or comfort, but isn't that a small price to pay for recapturing a bit of youth? Look for these classic cars on your local Craigslist, or in your parents' garage.
With this diverse range of options, you'll be prepared for your next summer road trip, no matter the destination. But, remember to slow down and enjoy the drive, because that's what the road trip is all about. Sure, you may get a flat tire in the middle of Nowhere, Utah (population: you), the kids may argue, and you'll probably overpay for some tourist trap. You could also just buy plane tickets, but where's the fun in that? Enjoy your next vacation in any one of these great cars.