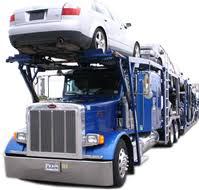 Auto shipping works much the same way as shipping any other item – from a Christmas package to a boat. In order to get your vehicle from your current location to its destination, you're going to have to hire a licensed and experienced auto transporter to help you make the transition simpler. With the rising cost of gas, more and more people are finding it a more cost-effective choice to have their vehicles shipped, rather than choosing to drive them to their new home. In some situations, such as in long-distance moves across the country, or even overseas, driving your car a long distance isn't an option.
Since you can't just put your car in the back of the moving truck you've hired, you're going to have to make special arrangements when you ship a car. Auto transport services specialize in moving vehicles safely, efficiently, and affordably, and should be the only option you're considering when it comes time to make your move. In addition, car shipping services are great in situations such as buying or selling a car online, opening up a world of possibilities for the average customer.
When You Ship a Car, Choose a Reputable Company
The same care and diligence you employ when searching for a mover should be applied when you're looking for a dependable auto transport company. Not all moving companies are created equal, and while word-of-mouth references go a long way toward helping you separate the reliable services from the fly-by-night scam artists, it's not the only criteria for you to keep in mind. Before signing any sort of shipping contract or committing to a shipping company, call multiple auto transporters to get comparison quotes to ensure you get the best deal possible.
Make sure that each company is aware of the specifics of your situation; what kind of car you drive, how old the car is, where you're shipping the vehicle, whether you prefer an enclosed or non-enclosed carrier, and the date of your planned move. It's best to call at least five companies, and narrow your choices down to the top three. Once you've done that, spend some time checking the companies out with the Better Business Bureau, and seeing what others have to say about them online.
An auto transport company is really just a moving service that helps people ship a car or any other type of vehicle, and doesn't have to be too expensive to fit into your budget. Doing a bit of research and comparing car shipping quotes, as well as planning in advance, can help put money right back in your pocket.