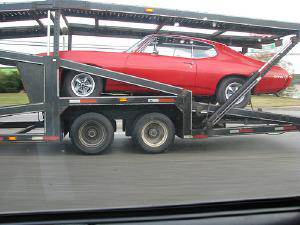 Whether you are shipping a vehicle from state-to-state or overseas, is never an inexpensive proposition, and finding cheap auto transport is often a hassle. Fortunately, low-cost auto transport options aren't restricted to no-name, fly-by-night companies you're not sure it's wise to trust, and huge operations that charge additional fees and surcharges for everything, knowing you'll happily pay them. Knowing the right questions to ask plays a huge part in choosing the best auto transport company for your needs, and making certain that you are indeed getting the most for your hard-earned dollar.
Cheap Car Shipping Facts
Shopping around before making any major purchase is always the wise and prudent choice, but it's particularly important when it comes to finding affordable car transport. A good deal is only a good deal if it isn't too good to be true. Unfortunately, many otherwise reputable auto shipping companies draw in customers by offering a quote that's lower than the competition's, only to add on fees, upgrades, and surcharges, as defined in the fine print. Many companies assume, and correctly so, that their customers won't be reading the fine print. In this way, deception by omission becomes a normal part of doing business. As a consumer, the best way to avoid traps and get the service you want is to ask questions, and read everything before you sign it. The search for the best auto shipping rates can be simple and hassle-free when you have all the facts. Here are a few more things to keep in mind when choosing an affordable car shipping provider:
Don't take anyone's word for it.
Make sure you take the time to get quotes from a number of auto transport companies offering inexpensive services, before making a commitment, since the first quote you receive will rarely be the best. Also, keep in mind that not all quotes are created equal. One may be lower than another because the first company does not include things such as fuel charges, shipping insurance, and other extras. It's up to you to ask the company directly what's covered and what's not, so that you can make a true comparison.
Get it in writing.
The best car shipping rates aren't worth anything if the terms have changed significantly once put down in writing. If a quote strikes you as reasonable, get it in writing immediately, before you continue your comparison shopping. Some companies offer promotions and guarantees such as the ability to match any competitor's quote, so you may be able to use one reasonable quote as leverage, in order to get another.
Always get insurance.
Insurance is rarely covered in the quote you're originally given, since companies hope you'll either opt out of being covered, or they can tack a huge charge for insurance onto your bill. Especially with a low-cost auto transport provider, you may end up choosing someone without a nationally recognized name, and less-than-comprehensive insurance. Things go wrong, so protect yourself. Know what kind of insurance the company has, what is covered in case of accident or other liability, and how much insurance will add to your quote.
Choosing a cheap car shipping company doesn't have to equate to risky business, but not knowing all the facts up front is the best way to find yourself aggravated, disappointed, or stuck paying way more than you originally anticipated. Approach every deal with a cautious and wary eye, and you'll undoubtedly end up finding a service provider that lives up to your expectations.