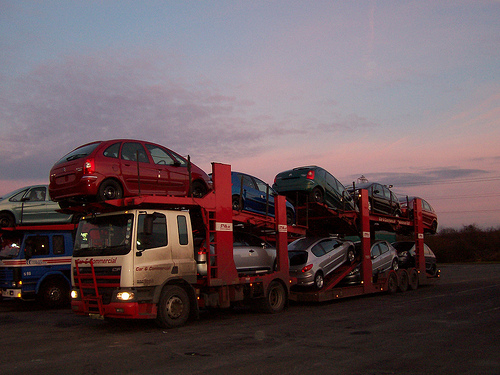 Car transporters are companies which specialize in point-to-point transportation of passenger cars and other vehicles. They can help you transport vehicles if you are relocating to a new region or if you have purchased a vehicle over the Internet and want it shipped to your home. Car transporters can be regional or national in scope, and offer services in virtually every part of the country.
Services Offered by Car Haulers
All car transporters use more or less the same methods for shipping cars, regardless of the size of the company or where they are based. When you sign up for car transportation services, you car will be hauled either in an open carrier or an enclosed one, and it will be picked up and delivered either directly to your home or at the transport company's shipping terminals. The total shipping cost depends on several factors, such as the size of your car, the shipping origin and destination, and the options you choose.
Shipping Options
When you arrange to have your car shipped by a car hauler, the first thing they will want to know is whether you want your car transported by an uncovered carrier or an enclosed one. An open carrier is the cheaper of the two options, and is the most commonly used method for point-to-point car transportation. Open carriers are safe and adequate for shipping most sedans, minivans and SUVs. Enclosed carriers are more expensive, but are the better choice for transporting luxury automobiles, antiques and other expensive vehicles.
Delivery Options
When booking your transportation, most car transporters will also ask you if you will be dropping your car off at their shipping terminal, or if you would like your car picked up from home. If you happen to live relatively close to the shipping company's terminal, you might want to consider dropping your car off there because it could help save you a few dollars. Door-to-door services are very convenient if you happen to live far away from a terminal facility, or just do not have the time to drop your car off personally. Keep in mind, though, that door-to-door shipping is more expensive than terminal-to-terminal shipping.
How to Find a Car Transporter
If you wanted to use a car transporter to haul your vehicle, the best place to begin your search would really be the Internet. Almost all reputable car haulers these days maintain websites that give you a detailed explanation of their services and offer you free price quotes if you give them your requirements. Because of the sheer number of companies that offer car transportation services, it can be a little challenging figuring out which company to choose. If you haven't used car transporters before, it pays to keep the following considerations in mind.
All car transporters are required by law to maintain car shipping insurance. Stay away from companies that cannot show you proof of insurance.
You can make your reservations directly with the motor carrier company that owns and operates the trucks which are used to transport cars. Or, you can go through a broker to book your transportation. Brokers are often able to negotiate better deals than you would be able to secure on your own by going directly to a carrier.
Shipping costs depend on the size of your car, the shipping distance and your shipping options. As a rule of thumb, bigger cars cost more money to ship than smaller cars. So, a Hummer will cost nearly twice as much to ship as a two-door coupe.
Car haulers require between 10 and 14 days to ship a car coast-to-coast, and about 3 to 5 days for shipping it over closer distances. If you want your car picked up and delivered on your schedule, make the reservations at least a week in advance to ensure enough delivery time.
Car transportation services require an advance deposit when you make a reservation. Always check what forms of payment they accept before making a reservation.
Car transporters can help make point-to-point car transportation relatively simple, which is why a growing number of consumers have begun using them these days.