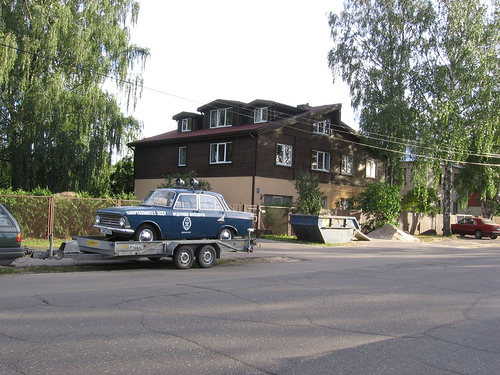 Car trailers are used to transport cars, trucks, SUVs, minivans and other passenger vehicles. They are designed to be attached to the back of a tow vehicle and pulled along safely over long distances. Car trailers are an ideal option for a do-it-yourself relocation. They allow you to transport your vehicle conveniently and more economically than professional car haulers can do it for you. Importantly, with a car trailer you do not have to entrust your car to a third-party, but can remain in full control of your vehicle while it is being transported.
Wide Ranging Options
Car trailers come in different sizes and configurations, and include closed and enclosed trailers, flatbeds, double deck trailers, gooseneck carriers, wood floor trailers, and open trailers that are capable of hauling two cars at once. Some trailers come in the form of car-tow dollies that allow cars to be towed with their front wheels off the ground, while others are designed to carry vehicles with all wheels off the ground.
Rent or Buy a Car Trailer
If you haven't used a trailer before, it can be a little confusing deciding which one to select for your needs – or, even where to find one. Fortunately, most rental and auto shipping companies offer car-carrying trailers, which you can rent out for as little as $200 per week for an unenclosed trailer. Car trailers are also widely available for purchase at prices starting from around $3,000 for a single-car flatbed trailer.
Tips for Selecting a Car Carrier Trailer
When selecting a trailer, keep the following tips in mind:
Make sure that the vehicle you intend on using for towing purposes is large enough and powerful enough to pull a loaded car trailer behind it. In most cases, you will require a four-wheel drive SUV or a pick up truck as your tow vehicle.
Flatbeds, unenclosed trailers and car tow dollies are the most economical options. However, enclosed transport trailers offer better protection for your vehicle. So, if you have an expensive car or an antique vehicle, you might want to consider using an enclosed trailer.
Gooseneck trailers are your best option if you have a heavy vehicle. The front-end of gooseneck trailers are attached to a hitch that is installed just over the rear axle of the tow vehicle. As a result, these trailers are often more stable than other trailers.
Consider using an open center trailer or a double deck trailer if you have more than one car to transport. These trailers usually are longer in length than other trailers, and are specifically designed to transport more than one vehicle.
Car tow dollies are ideal for towing relatively small, front-wheel drive vehicles.
Safety Considerations
You need to keep several important safety considerations in mind when using car trailers. Your tow vehicle, for instance, becomes an articulated or hinged vehicle when you attach a trailer to it, so you need to be especially careful when turning, merging lanes, or braking. A vehicle with a trailer attached to it takes a longer time to stop, has a much wider turning radius, and needs far more space when changing lanes than cars without trailers.
Your tow vehicle and tow hitch also need to be strong enough for carrying the load that you intend on towing. Even small miscalculations can result in your tow vehicle becoming seriously damaged. Car trailers offer a convenient and relatively low-cost option for transporting your car if you are confident enough about using one safely.