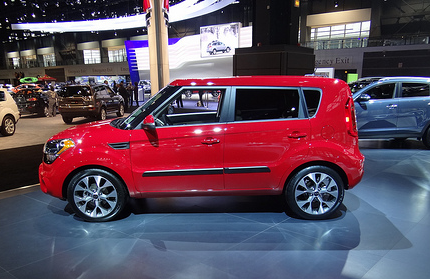 For years, American carmakers have vigorously wooed the 18 to 30-year old demographic with snazzy subcompacts like the Toyota Scion models, the Ford Fiesta, Kia Soul and the Chevy Sonic. Auto manufactures have promoted the vehicles using hip social media marketing techniques, youth-oriented advertising campaigns and music sponsorships. Yet, in a strange twist of irony, the biggest buyers of these cars are not youth, but people nearing retirement age.
Subcompacts a Big Hit with Seniors
A new report by online car shopping site Edmunds.com shows that close to 42 percent of those buying so-called youth cars are really those over 55 years of age. Contrary to popular notions about the best cars for seniors, the Edmunds report shows that many older people are opting for smaller cars that were designed with an entirely different market segment in mind. Though subcompacts have never been marketed specifically as cars for seniors, more people over the age of 55 are buying these cars than ever before. Over the last five years, the number of seniors buying subcompacts has risen from 29 percent to 42 percent, even as the proportion of 18 to 34-year olds buying these cars has dropped by 12 percent over the same period.
Purchasing Power of Baby Boomers
Though somewhat surprising, the numbers are not as counter-intuitive as they might first appear. People between the ages of 50 and 60 are the biggest car buyers in America. This segment accounts for the largest purchasers of subcompacts, compacts, full size sedans and vehicles marketed as the best cars for the elderly. In 2012, people 50 and older purchased 40 percent of all new cars sold in the United States, compared to 33 percent just five years ago. In contrast, younger buyers in the 18 to 30 year category accounted for just 12 percent of new car purchases compared to 14 percent five years ago.
Long-Term Trend
With millions of aging baby boomers expected to work well past their retirement age, Edmunds.com expects the trend to continue for the foreseeable future. While automakers have continued to target their market messaging at the Millennial Generation of 18 to 30 year-olds, the real purchasing power rests with the baby boomers, according to Edmunds. Not only do baby boomers earn more than the younger generation, they are also less saddled with student debt than the Millennial generation.
Importantly, the younger generation has very different attitudes towards cars and debt compared to boomers. As a result, fewer youth are likely to buy new cars compared to boomers. So, while cars like the Chrysler 300, Dodge Charger, Hyundai Sonata and the Infiniti M are often marketed as the best cars for seniors 2013, the reality is that a growing number of youthful subcompacts are rapidly joining the list of senior cars as well.