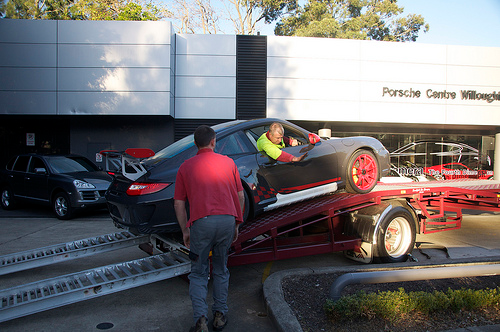 Unfortunately, auto shipping delivery dates do not work exactly like other forms of shipment that are able to guarantee exact times. This is a result of the complexity of shipping a car, which usually requires traversing multiple states, and picking up and dropping off as many as a dozen vehicles along the way.
Estimating Pick-Up and Delivery Dates
As a rule, auto shippers will provide rough time estimates detailing when a customer's vehicle will be picked up and dropped off. Be careful when dealing with companies that advertise dates which are set in stone, as they are simply not realistic. Weather problems, mechanical issues with the truck, and unpredictable traffic are always issues that drivers face – as such, delays are usually unintentional. Still, a 3 day window is usually provided in the car shipping contract to help people plan their moves.
Remember, unless the contract stipulates otherwise, refunds, discounts and other types of reimbursement for late pick-up and delivery are rarely granted. The summer months and winter holiday season are the busiest times of year for auto transporters, meaning estimates may be even less accurate than usual. For maximum accuracy, contact the company at least a week or more in advance of your shipping date requirement. Flexibility with scheduling goes a long way towards getting the cheapest price on car shipping services. If possible, wait for the late winter and spring months to ship a car, as these months are the slowest for car transporters, and, usually, the cheapest.
Cancellation Fees
Cancellation fees are standard practice for many car transport companies. Most will keep their deposit, while others may offer a partial refund. Details regarding this policy should be found within your contract. Many car shippers will allow cancellations without fees if a driver cannot be found, or if the pick-up window has been exceeded by seven days. Discuss these details with a company representative and have them included in the contract before signing.
If you are unable to be present for a pick-up or delivery date, you may assign another person to be responsible for inspecting your vehicle, signing contracts, and handing over the payment upon delivery, which is always in cash. Contact the company's support staff to ensure the correct authorization forms have been filled out ahead of time.