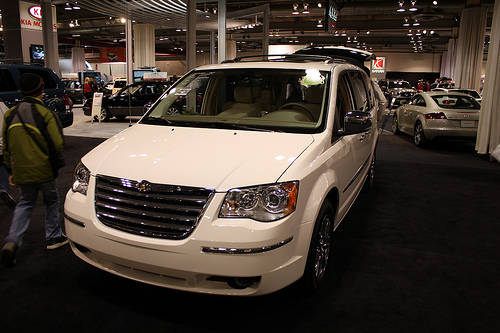 When searching for the best family cars, a lot of factors must be considered. There is, of course, the safety aspect, as all good family cars must have high safety ratings to keep the little ones safe. Family cars must also be highly reliable, as anyone who has been down a vehicle with children can tell you, having a car that works every time is a huge plus. The top family cars must also be able to keep up with a hefty amount of abuse that is likely to befall any car that is routinely occupied by children of any age. Of course, there is also the issue of price – the bottom line is always on the mind during any large, or small, purchase. That said, lets take a look at some of the best cars for families available today.
Outdoor-Oriented Families Prefer Subaru
The Subaru Outback has long been a staple of any outdoor-oriented family, but this sleek station wagon should be considered by any family, regardless of their chosen leisure time activities. As anyone who owns a Subaru will tell you, the vehicles are safe and reliable, two qualities that win high marks from every mom and dad out there. The Subaru Outback wins particular praise for its no-frills attitude: it just gets the job done. Sleeker and cooler looking than a van, the Outback is also lower to ground, making loading and unloading the kids, or the dog, a breeze. The large trunk makes loading up the gear for a family getaway easy as well, and the Outback is just as much at home carrying snowboards as it is groceries. This, along with its affordable price, make it a great selection for any family.
Chrysler's Van Earns High Marks for Space and Features
Of course, that Subaru isn't going to hold all your kids and all their friends. For that task, turn to the Chrysler Town and Country. SUV's may try to pass off poorly as cool rides, but, for utility, you are not going to find a better vehicle than the van. The Town and Country will haul seven kids to soccer practice, and be ready to move those kids to college ten years later. With second and third row seating that fold into the floor without unbolting, you gain access to a cavernous interior space that can hold about as much as you can shove into it. Between modern safety features, built in DVD players, and sliding doors, this van may be the best family vehicle there is, and they don't get better than the Town and Country.
Volvo is Synonymous with Safety
If safety is your number one goal, then look no further than the Volvo S60. A name synonymous with safety, Volvo started many of the now-standard child safety features mandated today. From child-proof locks and rear-facing child seats, and even the seat belt itself, Volvo cares about keeping you and your family safe. The S60 has class-leading scores from every bureau there is, and though there may be faster or more stylish cars on the market, none of them protect you better in a crash than the S60.
Honda's Accord a Family Staple
Another no-frill vehicle that's a family staple is the Honda Accord. Often the best selling car in the country, and for good reason, the Accord is an affordable, stylish, and safe vehicle that can get any parents and their 2.5 children where they need to go. The Accord also boasts impressive highway mileage at 34 miles per gallon, and for a purchase price of just a little over $20,000, it's going to be hard to find a vehicle that's going to get it done better for that price. Oh, and lets not forget, that since it's a Honda, you won't be missing any dance recitals while waiting for the vehicle to be repaired in the shop.
The Suburban Powers Through the Family Road Trip
If a trip up to the lake with your boat is in order, you might want to look to the Chevy Suburban to fit your family's needs. This beastly vehicle doesn't make any attempts to hide what it is: big, powerful, and spacious, and it's got all the room you need for the whole gang. With three rows of seating, it can hold as many people as your van, and the V8 standard engine means towing 6,000 pounds is a walk in the park. With space in the back for all your gear, the Suburban is hard to beat as the perfect road trip vehicle.
If you are in the market for a family vehicle, you can rest assured that, after looking at this list, there is a vehicle for you. Whether you need the utility of a van, the fuel mileage of a sedan, or are still worried about looking cool, there's a vehicle out there for you and your family. With these great vehicles, there's really no wrong choice.